How do I arrange a funeral?
General
The only legal requirement in the UK for funerals is that the death must be certified and registered, and the body must be disposed of. Disposal means by burial or cremation.
Many families choose to use a funeral director to assist with all aspects relating to preparation and transportation of the deceased.
Please note, there is no law requiring that you use a funeral director and it is perfectly possible for you to carry out a funeral yourself. There is really useful advice on how to carry out a funeral yourself on the Natural Death website. Many of the funeral directors who are familiar with Michael's Wood Natural Burial Ground will be more than happy to help with just the aspects that might be difficult for family or friends, such as keeping the body of the deceased cool, storing the body and transporting the body to the burial site. When using a funeral director please be clear about your wishes. There is a list of funeral directors that we are happy to recomend on our useful links page.
Working with us at Michael's Wood Natural Burial Ground
In order to make the process of working with us as easy as possible we are very concise about our requirements. You can download our forms from our Booking Forms page. We need the following*:
An email or telephone call to arrange a visit to the woods to select a plot location (we can select on your behalf if you wish)
A plot location to be selected
A date of interment (burial or ashes) to be confirmed
A booking form to be completed
A terms & conditions form to be complete
*If you are working with a funeral director they can do all of this on your behalf.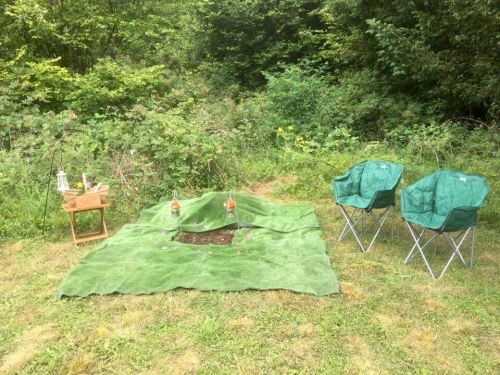 Burial information
The woodland is suitable for all human burials, cremated remains, pet burial and pet cremated remains. Biodegradable coffins, shrouds or urns that will not harm the environment must be used, such as wicker, reed, cotton or cardboard.
On the day of a funeral, ceremonies can take place at the grave location. We have the capacity to errect a gazebo and place a limited number of chairs if this is required. We work with families to ensure their wishes are met. You can choose to have a formal funeral or make it as informal as you like. Please speak to us to discuss any ideas you have as we encourage families to make the day as personal as possible. This may include having a picnic or glass of wine!
Religious burials or cremated remains plots can be blessed for the purpose. We encourage you to choose someone yourself to do this as it makes it more personal. In the event of this not being possible we can find someone on your behalf, however, any cost incurred would be passed on to you.
A ceramic electronic identification device is placed in all graves giving it a permanent unique reference number. A dual system of location is in place that will enable relatives and friends to indentify a grave in the years after the wood has returned to its natural state.
Graves can settle over an indeterminate period. We will only make good with topsoil and sow with grass seed if requested. Otherwise, graves are left to nature.