Ashes
A simple, private affair
The interment of ashes at Michael's Wood is usually a relatively simple and informal affair where families and friends can gather in all sizes, whether it be a large group ceremony or a small, private gathering with 1 or 2 people.
Families often like to bring a flask of tea, perhaps some cake, a few camp chairs and use the opportunity to be surrounded by wildlife and chat, stroll around the wood, share memories and remember. There are no time limits at Michael's Wood and families are welcome to spend as little or as much time as they like on the day. With 15 acres of mature woodland, there is always some privacy. Spring bulbs are often planted at this stage whether it be around the woodland or around the plot itself. Its another lovely way for everyone to be involved and to pay their respects.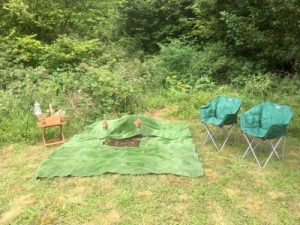 Flexibility
All our ashes ceremonies can be flexible. Given that we are at the mercy of the English weather, we know that gathering in the wind and rain can be off putting so we can move any agreed date for the interment of ashes very easily and at short notice should you want to wait for a brighter, drier day.
We have 2 main options when it comes to Ashes but we are also really happy to discuss any special wishes you or your family may have.
Turf Ashes
This is where the turf and around an inch of soil is rolled back exposing the loose soil below. The ashes are then interred directly into the soil, with no container or urn. Families sometimes choose to plant some bulbs amongst the soil and ashes at this point. The turf is then replaced leaving a neat plot area . This method keeps the whole process simple and as natural as possible.
Interment of Ashes
This involves the excavation of a plot (prepared in line with the urn's dimensions) by hand and as such requires more of our resources to prepare. This makes it a little more expensive and other factors have to be considered to keep the woodland as natural as possible such as what material the ashes urn/container is made of. We can only accept natural, untreated materials to be interred into our fully organic soil. However, we are more than happy to prepare this type of plot for our families. The prices for the interment of ashes are subject to the urn/container being within the following dimensions: H 25cm x L 25cm x W 25cm. Please contact us if the dimensions are outside these measurements and we will be able to offer you a price tailored to your needs.
To book an ashes plot with us, please complete and return a Booking Form and T&Cs (click on the links below):
If you have any questions or want to talk things through with us, please get in touch:
Email: admin@woodlandburialscholderton.co.uk (This is usually the quickest way to contact us)
Tel: 07400 257357 / 01980 629 203 (Please leave a message if we don't answer straight away)